A few days snuggled in my pyjamas in bed is just what I needed, well sort of. I still had to be mobile and vaguely presentable to look after K and do the school run. But slopping about in scruffs and hiding under a blanket on sofa is close enough. I still have the urgy lurgy but at least I don't feel like the top of my head is about to pop off.
Being ill has posed somewhat of a 1950s housewife dilemma. What should I wear when I am ill? For the last few days I have been wearing an old pair of skinny jeans I dug out of the back of the wardrobe, Mr H's old sweatshirts and sheepskin boots I was given by a friend years ago. With no make-up and my pink hair scraped back into a ponytail, my overall look was described by Mr H as 'chav-tastic'. What a charmer! But after I suppressed the urge to chase him around the kitchen with a frying pan, I had to concede that he had a point.
I suppose I could carry on like a trooper wearing girdles and stockings and puffy skirts but that's really REALLY unlikely to happen. I am just not a trooper when I am ill. If I feel even slightly bad the whole world has to know about it. It's not that I'm miserable or horrid to anyone but I do have a
slight
tendency to whine and ask for endless cups of hot tea. But at the same time I don't want to turn into Vicky Pollard each time I catch a sniffle.
As an aside... My goodies arrived. The two vintage sewing patterns I bought from Etsy arrived on Thursday followed on Friday morning by the Susan Crawford knitting pattern book Mr H bought me. I haven't bought any fabric or yarn yet but I'm sure it won't be long before I buy some, after all if I keep looking longingly at the patterns all day, I'm going to start to look a bit odd.
But that's not all. I had a rummage around in the attic and I managed to find a few goodies that I forgot I had including a 1950s style sewing pattern New Look 6723, an early 1960s Bestway knitting pattern B3137 for ladies gloves and a 1980s knitting book called Knitting In Vogue that Mum gave me that has fabulous patterns from the 30s to the 80s.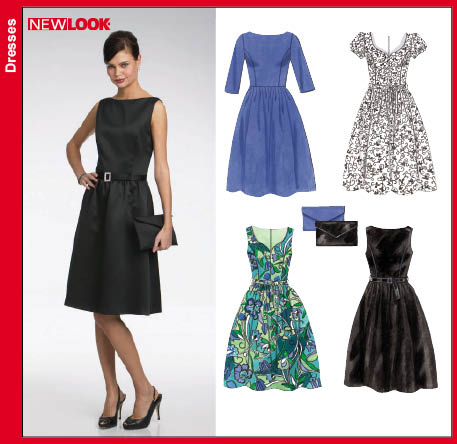 I also bought two more patterns from Etsy. (It will be my downfall, I swear I'm addicted.) I bought a classic 1950s pattern that I'm going to use to make a HUGE selection of unfitted housedresses to wear while doing the housework and run errands as well as an incredibly cute pyjama and robe pattern (again from the early 1960s rather than 50s) that I just can't wait to make in powder blue sateen, just like the envelope cover. I'm gathering quite the wardrobe!
Advance 8230 from HelaQ and Simplicity 5205 from The Half House
From Etsy.com
But for now I'm going to crawl back under my blanket with my half knitted gloves, gaze longingly at my patterns and hope that no-one sees me...